JEWELLERY CARE TIPS

TAKING CARE OF YOUR JEWELLERY
POM Boutique stock a selection of sterling silver jewellery and plated jewellery and all of our jewellery is nickel free.

Here at POM HQ we're all jewellery fanatics and we each have pieces that we've loved and worn time and time again, so we're sharing our top tips for taking care of your silver jewellery to ensure that it stays looking its best.

Over time sterling silver jewellery will tarnish if left in the open
Pure silver is relatively soft and so it's combined with other metals to strengthen it. Sterling silver is 92.5% silver and it's the other 7.5% that reacts with moisture in the air to cause tarnishing. So tip number one is to keep your silver protected when you're not wearing it by sealing it away in a jewellery box, or a grip top sandwich bag will do just fine!
If you forget to put your silver away and find that it has tarnished, all is not lost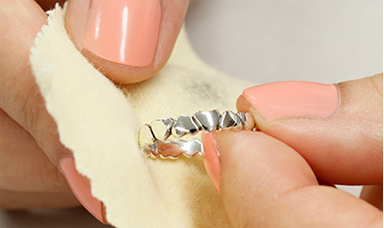 High street jewellers and online retailers sell a number of cleaning products to restore your silver back to its former glory. We recommend using a silver cloth for light tarnishing, simply rub cloth over the silver to remove any tarnish and buff to a shine.
If your silver jewellery has filigree elements that a cloth won't reach, silver dip will do the trick. Simply dip your jewellery into the cleaning solution for a shine in seconds.
*Please note that although the majority of sterling silver jewellery can be dipped safely at home, it may not be suitable for all silver jewellery. For example, silver with a matt finish, plated jewellery and jewellery containing gemstones may need specialist cleaning.Please always read the cleaning manufacturers guide carefully to avoid any damage

Your perfume could be tarnishing your jewellery
It may sound strange but if you notice tarnishing on items that don't usually require a lot of cleaning, it could be a reaction to your perfume or body lotion. Chemicals and moisture within cosmetic products can cause and/or accelerate tarnishing.

If you find that a piece of silver jewellery has tarnished very quickly or whilst wearing it, try cleaning it and then wearing it without body lotion or perfume to find out if cosmetics are the cause.

We also recommend removing jewellery before showering or swimming to avoid coming into contact with body wash or chlorine.
Taking care of jewellery that isn't sterling silver

Our fashion jewellery designs are made from nickel-free alloy which is then plated in a fine layer of pure silver or other finishes such as gold and rose gold.
Repeated cleaning will eventually rub this layer away revealing the base metals underneath. In these cases prevention is better than cure. Plated jewellery designs need to be removed when washing or swimming to avoid premature fading. Try to avoid contact with body lotions, perfume and hairspray. Store your silver plated, gold plated and rose gold plated jewellery away from strong light and moisture, preferably in an airtight box or bag, and you should be able to keep them looking tip-top for a very long time.
We hope this helps to keep your jewellery looking its best and if you have any tips you'd like to share, please let us know!
Copyright © 2021 POM Boutique | All Rights Reserved
7 Dunkirk Business Park
Frome Road
Southwick
Wiltshire
BA14 9NL

e: support@pomboutique.co.uk
www.pomboutique.co.uk